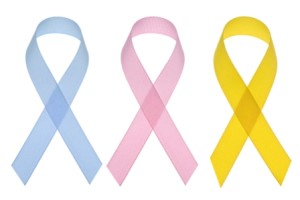 I'm a bit behind this month (seeing how it's actually November).
The following are a few cancer news stories from October.
There is a brief summary of each news item with a link to the source.
I may miss November news stories as I will be walking in my 11th 3-Day Walk for the Cure.
Wish me blister-free luck.
Good Diet Linked to Lower Mortality Post-Ovarian Cancer
A healthy diet has many benefits. A new study published in the Journal of the National Cancer Institute revealed a link to lower mortality and suggests a protective effect following ovarian cancer.
Women with a smaller waist circumference and no history of diabetes and physical activity showed the strongest link to lower mortality.
Read the Press Release from the University of Arizona Health Sciences Center.
Study Compares Treatments for Early-Stage Lung Cancer
A study from The University of Texas MD Anderson Care Center shared treatment comparisons for early-stage lung cancer.
Removal of the entire lobe of lung versus a partial resection may offer patients a better survival rate.
Stereotactic ablative radiotherapy (SABR) may offer the same survival benefit as a lobectomy for some patients.
The study was the largest population-based one of its kind for early-stage lung cancer treatment. JAMA Surgery published the study's results.
Read the news release at MD Anderson Cancer Center site.
Gene Mutation Found Common to Colorectal and Endometrial Cancers
Scientists from Dana-Farber Cancer Institute and the Broad Institute of MIT and Harvard identified a genetic mutation that is present in approximately 20 percent of colorectal and endometrial cancers.
Previously overlooked, "the altered gene, called RNF43, now ranks as one of the most common mutations in the two cancer types."
Read more at News Releases for the Dana-Farber Cancer Institute site.
Stanford Study Finds Value in Genetic Screening for Breast Cancer
Contrary to an earlier study, Stanford Medicine researchers found genetic screening could reduce the number of breast cancer cases.
The study showed the riskiest top 25 percent of gene combinations predicted 50 percent of all future breast cancers.
Armed with that information, researchers suggest women would be able to have regular mammograms, watch their diets and make childbearing and breast-feeding decisions with the awareness of their higher risk.
Review the Stanford Medicine News Release for full details.
Note: Cathy Miller is not a physician. Nothing on this site is intended to offer medical advice, treatment or services for you or any other individual. The resources provide general information for educational purposes only. This site and links to other sites do not substitute for professional care. You should seek the advice of your physician or other healthcare provider.