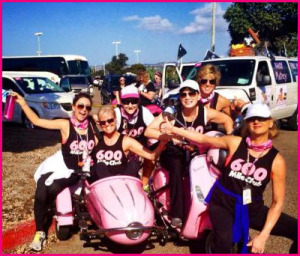 Next week I leave for my beloved San Diego.
For those of you who don't know, I lived in San Diego for nearly 20 years.
It was there I experienced my first 3-Day Walk for the Cure − way back in 2003.
I will be participating in my 11th Walk with my fabulous team.
As we have been finalizing travel details, I find myself getting more and more excited. Let me tell you why.
3-Day Walk #11
I often wonder what it is about this event that will not let go.
My initial motivation was fueled by my sister's diagnosis of breast cancer. I am happy to report that Terry is still going strong as a long-time breast cancer survivor.
But even before Terry's diagnosis, I marveled at walkers from the then Avon 3-Day Walk going down the coast of California. I kept promising myself I would try it, although at the time I didn't know anyone who had breast cancer.
When I finally got my rear off the couch, I figured I would do the Walk once. Silly girl.
Walked Straight into my Heart
I shared the story of my first encounter with the women who would later become my teammates.
The connection had a cosmic, meant-to-be feel about it.
Words cannot express what these wonderful women have meant to me. I cannot imagine my life without them.They have all made me a better person. Each one walked straight into my heart.
The biggest reason I get excited every year to do another Walk is the knowledge we are going to be together again.
I love you, ladies.
The Challenge Continues
It's rather funny to me that in the last few years, the Walks have gotten easier. Lord, I hope I haven't jinxed myself.
Despite passing the age of 60, I have remained free of some of the earlier troubles.
Blisters galore plagued me until I found my MBTs
Lost toenails had me banishing closed shoes forever
I breathe much easier on hills – heck I actually get up those hills – since I lost the tons of weight corporate life packed on
But let's face it. It's still 60 miles. In 3 days.
The challenge still exists. Last year, I challenged myself to walk up Torrey Pines without stopping.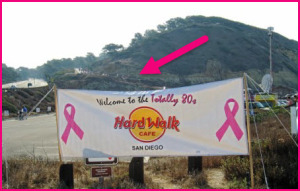 See the hill behind this sign? That's Torrey Pines.
It goes up and up
And on an on
I had asthma as a teenager and always had to take a breather about half way up. Usually to pick up a lung.
Last year I made it in one fell swoop. No stopping!
Ah, little victories.
The Cause
If you are like me, you know too many people affected by cancer.
Those we've lost like my dear Aunt Mitzi who had lung cancer
All the survivors like my sister, Terry, and teammates, Sue, Martina, and Penny
And the friends and families of the survivors and those lost to cancer
The good news is – my list of names of survivors gets longer.
As I told teammate and survivor, Penny, I will do this as long as this 60-plus-year-old body permits me to. And when it won't, I'll volunteer.
Pray to the great No Blisters gods for me!
Walk on!