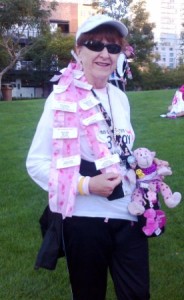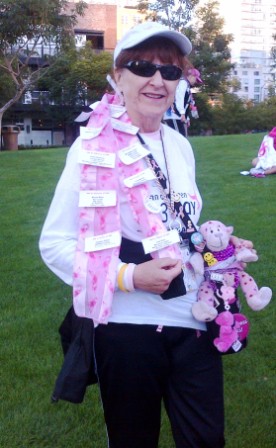 At what point does an act become passion?
Is there a magic moment or set repetition that moves participation into passion?
I often wonder what prompted a 50+ (now 60+) woman to walk 60 miles in 3 days. Over and over again.
I thought the answer was my sister being diagnosed with breast cancer.
But that was just the kick in the pants.
Long before I strapped on my walking shoes, the passion for the event ignited.
Passion Ignited
In the late 1990s, I saw a group of women making their way down Channel Islands Boulevard in southern California. There may have been men, too, but I only saw women.
There were hundreds of women walking.
While waiting at a stoplight, I leaned out my window and asked what they were doing. Besides walking. Duh.
They were walking in what was then the Avon 3-Day Walk. From Santa Barbara, down the coast to Malibu. Wow.
I thought to myself, I need to do this.
Road Warrior work and life in general had other ideas. Years later, it was the call from my mother telling me my sister had breast cancer that kicked me off the couch.
Beyond 60 Miles
I was such a newbie that first Walk.
I read every tip
Trained for months
Had a professional suggest my shoes
For all my enthusiasm, I never thought beyond that first Walk in 2003. Yet, here I am. Still walking.
Why?
I find that's hard to explain. And I'm a writer. I wonder if I have to turn in my writer's card.
What was it about seeing hundreds of women walking down the coast that so moved me? Long before I knew anyone with breast cancer.
After countless blisters, lost toenails, and scrapped shoes, I still walk. 60 miles in 3 days.
Why?
Recently, I heard Cheryl Strayed, the author of Wild, speak about her journey.
At age 26, Cheryl hiked more than a thousand miles of the Pacific Crest Trail. She had no experience or training to do that. Sounds familiar.
During her talk, Cheryl shared that she was glad her book, Wild, was not going to be more writing about her mother (who died of lung cancer at the young age of 45). What she discovered was the book (and her journey) was all about her mother.
I am hoping the journey that has led me here will shed light on this passion of mine.
I hope it answers the question, Why?
Walk on.