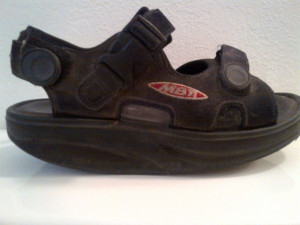 I bow at the altar of my MBTs.
The sandals saved me from 3-Day, 60-mile Walks filled with blisters and lost toenails.
Like a spurned lover left with her partner's debt, I feel betrayed by the company's financial ruin.
What are MBTs?
MBTs − The Shoe
MBT is an acronym for Masai Barefoot Technology. They are those funny, curved bottom shoes shown in the picture (the sandal version).
The shoes became wildly popular, and as commerce is known to do, were ripped off and reproduced in knock-offs and imitators.
The Skechers Shape-Ups sealed the fate of the funny-looking shoes.
They still exist. But with different models and a dwindling supply.
Blister Mania
I thought I did everything right.
I visited a sports store professional to fit my shoes
I purchased socks designed for walking 60 miles in 3 days
I trained according to the 3-Day plan
And it worked. For my training walks.
By Day 2 of my first Walk in 2003, blisters popped in to join my feet. The blasted demons took total control.
I decided the professional screwed up. My shoes were two sizes bigger than my normal size. The accepted recommendation calls for shoes that are one to one and a half sizes bigger.
So I tried again for the next Walk. This time with shoes only one size larger.
And it worked − again for my training walks.
Day 2 of my second Walk was more of the same. Only now I added the delightful effect of losing my big toenail.
In 2006, I tried my first pair of MBTs.
Mind Your MBTs
What is it about a seemingly intelligent person who goes into a store knowing exactly what she wants, then leaves with something else?
I forget how I discovered MBTs. Perhaps someone else was wearing them on the Walk. However, I knew I wanted sandals. I figured open toes − toenails intact.
I visited a local specialty store for shoes. I told them exactly what I wanted.
Oh, they sold me MBTs. The problem was I walked out with the closed shoe model.
At least I was halfway there. The first year I wore those shoes − Ta-Da! No blisters! Can I have an Amen?
The problem was, I still lost a toenail. The pavement-slapping 60 miles is brutal on toenails.
Why didn't I ignore the retailer's suggestion?
And why was she so bent on selling me closed shoes?
The price was the same − $$$ − expensive.
In 2007, I insisted on my MBT sandals. Nirvana was mine.
From the first time I put those sandals on, my feet sang in joyful delight.
I never have blisters
I never lose toenails
60 miles never felt so good
Then the curved bottom fell out.
Missing MBTs
The company discontinued the model I loved.
I tried a different model (as shown in the picture).
I hated them.
I hated the thin strap dissecting the top of my foot
I regularly fell off the shoe − me − a veteran MBT-wearer
I went in search for a different model for the next Walk.
Men's MBTs
This time I found one similar to my original sandals.
Once again, there was a problem.
The model only came in men's sizes.
Fortunately, I found a size small enough to fit my feet.
One good thing about a dying breed, I was able to buy two pair for the same cost I had paid for one.
Nirvana was mine once again. For awhile.
Remember how I said the supply was dwindling?
There is not a pair in my size to be found. Anywhere.
The newer models are made of leather. Leather and 60 miles? I don't think so.
Down and Out
As I prepare for my 11th 3-Day Walk for the Cure, I realize I am probably walking without my best friend, my MBTs.
I am test-walking a new sandal. What it lacks in curves, it makes up for in fashion.
Check out the pink soles.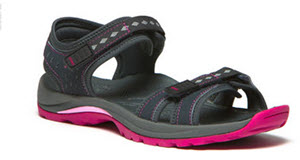 I can only hope my feet accept this new stranger. Lord knows I'm too old to change but what choice do I have?
Walk on!