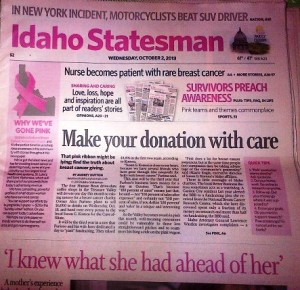 How cool is this?
The Boise newspaper has gone pink.
This morning as I walked out to get the paper, I knew it was going to be a bit different.
Each year, in recognition of October Breast Cancer Awareness, the Idaho Statesman goes pink.
From cover to cover, the pages are all pink
The paper invited stories from readers touched by breast cancer
So, I decided to send in my own.
Here is a picture of my story.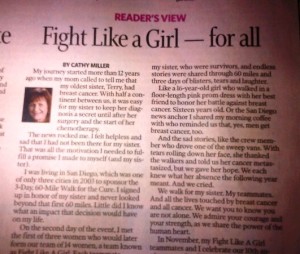 You can read the story online at the Idaho Statesman.
As is the way with stories about breast cancer, my submission was next to a breast cancer survivor's story who encouraged women to fight like a girl.
The community of survivors, family, supporters and those we lost, unites us in a battle we will never give up.
What stories do you have to share?
How are you recognizing October as breast cancer awareness month?
My Fight Like A Girl teammates and I are celebrating our 10th anniversary as a team.
And what better way to do that than walking 60 miles in the 3-Day Walk for the Cure in November in beautiful San Diego?
Walk on.
=================
Live…Laugh…Love