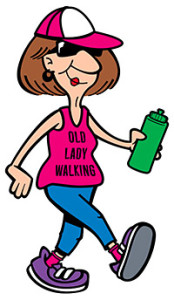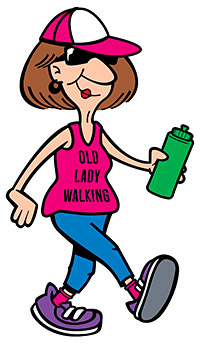 The 1st Why 60 Miles winner is here.
A random selection of one of this site's subscribers won a free gift (up to $25) from the Old Lady Walking store.
Jan Shapard is the lucky winner of the $25 gift certificate.
Thank you to all who have signed up for the monthly newsletter with blog updates and other news.
If you'd like to know what's going on at Why 60 Miles, sign up by completing the sidebar form.
As a bonus, you'll receive a free copy of 60-Mile Walk Survival Guide from an old lady walking. You won't have to walk 60 miles to receive your copy.
Go ahead. Live vicariously through this old lady. I don't mind.
Why 60 Miles Prize Lives On
I decided to offer the chance to win another $25 gift certificate to the Old Lady Walking store two more times in 2014.
The second Why 60 Miles prize contest closes at the end of August 31, 2014
The third Why 60 Miles contest closes at the end of December 31, 2014
The "rules" remain the same.
A random drawing will be held
The winner will receive a $25 gift certificate to the store
All subscribers (excluding previous winners) are eligible for the contest. If you are already signed up, your name will be included.
Thanks again to all who signed up and congratulations to Jan.
Walk on!