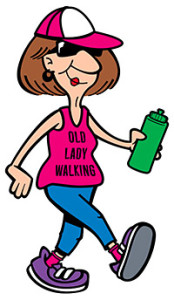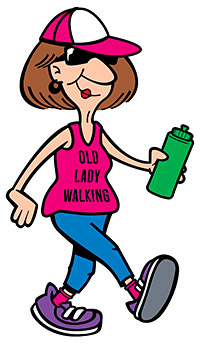 When my Old Lady Walking store opened, I should not have been surprised to see Kim Lemon as my first customer.
Kim is one of those delightful social media stories in which we reconnected after years apart.
We connected on Facebook…er, excuse me, we Friend-ed (is that a word) on Facebook and Kim has been my biggest supporter ever since.
Whether it's my business site, personal site or my newly-launched Why 60 Miles, Kim is always there for support.
I am so grateful to know Kim and I asked her to share a bit of her story.
Oh, what did Kim buy?
The Boomer fleece track jacket. Kim, you look mah-velous.
Old Lady Walking Supporter Extraordinaire
By Kim Lemon
The past few years, I have been a supporter of Cathy and her "Fight Like a Girl" team.
It is an honor to continue support in her eleventh year and a new chapter as "Old Lady Walking".
Supporting the fight for a cure had special meaning for me last year, as I witnessed my best friend fight… and win her battle with lymphoma.
Cathy has offered yet another opportunity to support her in the fight against breast cancer. The Old Lady Walking Store.
Please join me in visiting her site for a super fun shopping experience.
Not only is my new jacket comfy and warm, it also sports the adorable, "Old Lady Walking" logo. I wear it proudly.
Of course, if a jacket is not what you had in mind, there are a gazillion other fun things to buy.
It's a win, win situation…you get something nice, and Cathy gets to walk!
Thank You
Kim, thank you for sharing your story but most of all, thank you for being the wonderful friend you are. You are one special lady.
"See" you on my blogs and Facebook.
Walk on!