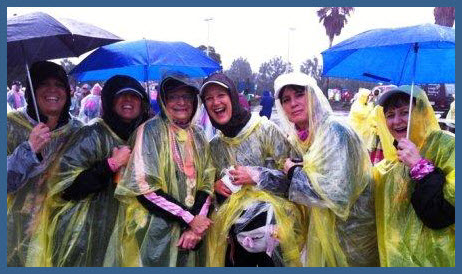 Originally posted at
Simply stated business
After extolling the beauty of San Diego weather, the Susan G. Komen, 3-Day, 60-Mile Walk for Breast Cancer decided to throw us a curve.
Monsoon-like rain
Blowing winds – I'm sure I saw Shamu go flying by
All of it pelting a sea of brightly-colored ponchos
Oh yeah, the ponchos covered 4,000 3-Day Walkers
You know what – we all survived – no, thrived.
The Unselfish Journey
Each walker there had his or her own reason for walking.
Some lost a loved one to cancer
Some knew survivors
Some are survivors
Some just care
We started with a single step —
Then another —
We stepped in puddles
Winds ripped umbrellas apart
We picked up walkers crying in pain
We laughed at the silly way we looked
I had so many dry socks in my zippered windbreaker, I looked like a pregnant kangaroo.
A Rainbow of Hope
What we endured cannot touch on the courage of those dealing with cancer – patients, families, caretakers.
After a brutal day of weather, as we neared tent city, the skies cleared.
A giant rainbow crossed the sky —

As if to say – there is hope – there is always hope.
Follow Your Passion
The 3-Day has become a passion for me and many others.
My business is the pursuit of a passion.
If I have learned anything from the 3-Day, it's this —
Follow your passion
Share the journey
Take pride in what you accomplish
It all starts with a single step.
Thanks again to all my contributors who made my 7th Walk possible.
Thank you to my teammates of Fight Like A Girl —
Abby Widman
Beth Greenberg
Julie Ewert
Martina Scanlan
Penny Rammer
Sue Peterson
The back of our t-shirt said it best —
Blisters heal

Muscles recover

Friendships last a lifetime