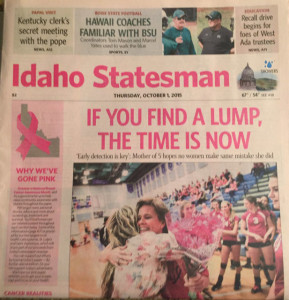 Funny thing about the fight against breast cancer. You participate in what you think will be a single event and then – BAM.
You're hooked.
That's how the Susan G. Komen 3-Day Walk for the Cure started. I signed up for what I thought would be my only 3-Day, 60-Mile Walk and then – BAM.
In November, I am doing number twelve.
After moving to Boise in the latter part of 2009, I continued to go back to San Diego for the 3-Day Walk. I also found another event to participate in.
Each year, the local paper publishes its Idaho Statesman Pink Edition. That's right. Cover-to-cover of pink paper. The paper invites residents to share their stories. The stories from survivors and families who lost loved ones are truly inspiring.
I submitted what I thought would be my only entry three years ago. You guessed it. I got hooked. The following is my 2015 entry.
Idaho Statesman Pink Edition
Cancer is not done yet, so neither am I
by Cathy Miller
The call was an unwelcome reminder. Crazy as it sounds, it is easy to take a 60-mile, three-day walk to fight breast cancer for granted. After all, I completed 11 walks, and the survivors I know continue to thrive.
Then I received the call. A friend I have known for 40 years called to tell me she has breast cancer. Once again, cancer has shown it is not done yet.
I started this journey with a similar call. Living in San Diego at the time, my mom called to tell me my sister, Terry, had been diagnosed with breast cancer. I felt so helpless. Up to that point, I did not personally know anyone with breast cancer. Now cancer had become very personal.
The Susan G. Komen 3-Day Walk first took place in my home city of San Diego in 2003. I signed up to walk what would become the first of many. I had not planned beyond the first. Then I met teammates, three of whom were breast cancer survivors. I heard all the stories, shared over three days of hills, laughter and tears. How could I walk away? Cancer was not done yet.
I moved to Boise in 2009 but continue to go back to San Diego every year to walk in another 60-mile walk. When I go back, I take vacation time the week before the walk and stay with my longtime friend, Linda.
Linda has generously contributed every year to the funds I need to raise to participate. She showers my teammates and I with small gifts, including our favorite pink bling lanyards that hold our credentials for the walk. We did not plan for her to participate in this very personal way. Linda was not supposed to get breast cancer.
That's the nature of cancer. Just when you think you have it beat, cancer proves it is not done yet. Cancer becomes very personal. As I celebrate each year my sister and teammates are cancer-free, I must now add Linda's name to those I wear on the walk . They include names of those battling this disease, survivors and those who sadly lost the battle.
Complacency about another walk is gone. The donning of pink is more than a fashion statement. Once again, the reason this 60-plus-year-old woman walks is made painfully clear. Cancer is not done yet and neither am I.
========
Walk on.