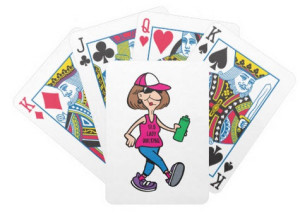 Health care has more than its share of fraud.
Throughout my 30-year-plus health care career, I often remarked we could cover everyone in the U.S. for what we paid out in fraud.
My good friend, Jan Shapard, knows that better than I do. She has spent her career battling health care fraud.
As you'll read in Jan's story, we met while I was still in the corporate side of the industry. We have remained friends ever since.
I was thrilled when by the luck of the draw, Jan was my first recipient for the gift certificate to my Old Lady Walking store.
Jan selected the Old Lady Walking playing cards as shown here.
I asked Jan if she would be willing to share her story on how cancer has affected her life. She graciously accepted.
Please welcome my good friend, Jan.
My Health Care Buddy's Story
Cancer's New Meaning
By Jan Shapard
Cathy and I were colleagues and friends at a consulting firm in Los Angeles in the late 90's. Cathy left for San Diego and eventually I left for Nashville.
Cathy's devotion to the 60-mile walk always inspired me, but it took on new meaning in the last few years.
I lost my brother to bile duct cancer and Cathy walked in memory of him. Then, the unbelievable happened. My 41-year old son was diagnosed with colon cancer. More walking. He is fine now, 2 years out.
My gratitude for Cathy's dedication to cancer research was recently rewarded when I won a prize from her Old Lady Walking items!
I play bridge with friends I have known and shared Life with for over 30 years. (I flew back from California every year for our annual Bridge Retreat.)
I chose Old Lady Walking playing cards. Now I have Cathy walking across my bridge table! It is a wonderful reminder of her story, our friendship and the battle we still have to wage to defeat Cancer.
Thanks for everything, Cathy.
Thank you, Jan, for sharing your story and most of all your friendship.
Sign up in the sidebar box for your chance to win the next $25 gift certificate to the Old Lady Walking store. 
Walk on!