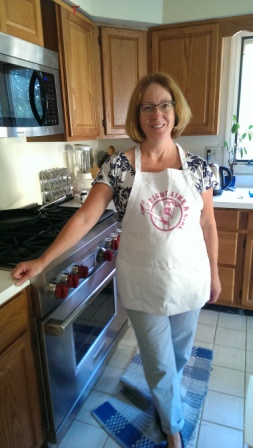 The Old Lady Walking store made room for some attitude with its Fight Like A Girl merchandise.
It's not surprising that our second winner of a Why 60 Miles gift certificate was attracted to the kickboxing bad girl.
Lori Widmer relates to that attitude.
Her Words on the Page blog for freelance writers kicks low-paying gigs and self-professed gurus to the curb.
That's between her busy career as a top freelance writer specializing in insurance and risk management and her training for a Tough Mudder event. After recuperating from a prior surgery. You go, Girl.
Fight Like A Girl
I met Lori (through the magic of online) after I started my own business writing company. I knew from the start, Lori was my kind of person.
She has been one of my biggest supporters in my 3-Day Walks for the Cure. And has become one of my treasured trio of online connections who banded together for support, laughs, and okay – gossiping.
So, of course, I was thrilled when a random drawing for the second Why 60 Miles contest produced Lori's name.
Lori chose the kickboxing Fight Like A Girl apron. It goes great with her newly renovated kitchen. Something else Lori squeezed into her schedule.
Kick Up Your Odds
Lest I be accused of fixing the results (the first winner I also know personally), kick up your odds for winning the next $25 gift certificate to the Old Lady Walking store.
I bet you can find something that strikes your fancy.
It's simple.
Sign up at the pink (of course) sign-up box in the sidebar
A random drawing will be held at the close of December 31, 2014 (Happy New Year's Eve!)
The winner will receive a $25 gift certificate to the store
All subscribers (excluding previous winners) are eligible for the contest. If you are already signed up, your name will be included.
Thank you for joining me on this journey. There's only 8 weeks until my 11th 3-Day Walk for the Cure!
Walk on!
P.S. If you would like to Share Your Story, send me a quick note through my Contact Cathy form.