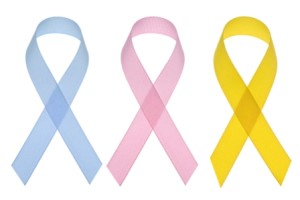 The following are a few cancer news stories for May.
There is a brief summary of each news item with a link to the source.
Let me know in Comments if you find these useful or would like to share other news stories. Thank you.
Unemployment: Breast Cancer Side Effect?
A study conducted by the University of Michigan Cancer Center had some disturbing findings. Nearly one-third of breast cancer survivors who had been working at their time of diagnosis were unemployed four years later.
Most (55 percent) indicated they would like to be working. Overall, 30 percent were no longer working. Women who received chemotherapy were more likely to report they were not working.
Read the Press Release for more details.
Vitamin D Deficiency Linked to Aggressive Prostate Cancer
A new study from Northwestern Medicine and the University of Illinois at Chicago found a deficiency in vitamin D put African-American and European-American men with high risk of prostate cancer at greater odds for an aggressive form of the disease.
Researchers noted a Vitamin D deficiency has few symptoms, except in severe cases. The finding means screening for the deficiency is important in high-risk individuals
Read the Press Release for more information.
U.S. Rates of Cervical Cancer Higher Than Previously Reported
Study findings published in the journal, Cancer, showed U.S. cervical cancer rates are higher than previously thought. Women aged 65- to 69-years-old and African-American women had the greatest increase.
The findings may have an effect on guidelines for pap smears, which do not recommend screening for women over 65 if their prior test results have been normal.
Read more about the study at the University of Maryland News.
Study of Protein Will Help Design of Cancer-fighting Drugs
St. Jude Children's Research Hospital researchers published a new study on the protein p53 in online journal Nature Structural & Molecular Biology.  The protein is instrumental in triggering the suicide of cancer cells (a process known as apoptosis).
Another protein (BCL-xL) often inhibits p53 from doing its job. The study hopes to develop a drug that would allow protein p53 to trigger apoptosis.
Learn more about the study at St. Jude Children's Research Hospital Medicine and Science News.
Electronic Cigarettes May Pose Health Risk
The Roswell Cancer Institute cautions some electronic cigarettes (e-cigarettes) may increase health risks. Possible factors studied by researchers include the nicotine solvent and battery output voltage.
E-cigarettes are battery-operated devices that apply heat to a liquid (e-liquid) filled with nicotine, as well as other chemicals. Users inhale the vapor created from the e-cigarette. Some e-cigarettes allow an increase in vapor production through a change in the voltage and delivery of nicotine.
Read the Roswell Cancer Institute Press Release for more details.
Note: Cathy Miller is not a physician. Nothing on this site is intended to offer medical advice, treatment or services for you or any other individual. The resources provide general information for educational purposes only. This site and links to other sites do not substitute for professional care. You should seek the advice of your physician or other healthcare provider.