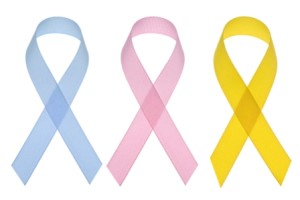 The following are a few cancer news stories for September.
There is a brief summary of each news item with a link to the source.
Let me know in Comments if you find these useful or would like to share other news stories. Thank you.
Victoria's Secret Breathes Easier Over Study Results
Now this is one rumor I had not heard. Apparently, there was enough of a belief in the claim that bras – yes, bras – caused breast cancer to warrant a study.
Researchers at the Fred Hutchinson Cancer Research Center conducted a study that found no support (sorry) for the claim that brassieres worn daily by millions of women might be linked to breast cancer.
At least not in Seattle. The study used data from more than 1,000 Seattle-area women diagnosed with invasive breast cancer between 2000 and 2004.
Read the Press Release from the Fred Hutchinson Cancer Research Center.
New Tool Aids in Detection of Cancerous Breast Tissue
An astonishing 40 percent of women who undergo breast cancer surgery require additional surgery. The reason? Missed cancerous tissue.
Researchers at Brigham and Women's Hospital (BWH) developed a tool that will help surgeons better distinguish cancerous breast tissue from normal tissue. Hopefully, that means fewer repeat operations.
Read more at the Science Daily news site.
Children's Hospital Los Angeles Unlocks Mystery of Rare Eye Cancer in Children
Retinoblastoma usually affects children 1 to 2 years of age and is a retinal tumor. It is is the most common malignant tumor of the eye in children.
Researchers questioned why mutations to a particular gene caused a tumor in the retina but not other cell types. The researchers at Children's Hospital Los Angeles and the Memorial Sloan-Kettering Cancer Center appear to have linked the cancer to a single genetic change.
Review the USC News article for more details.
Sign of Early Development of Pancreatic Cancer Discovered
Pancreatic cancer is the fourth leading cause of cancer deaths, accounting for six percent of all cancer-related deaths.
Researchers at Dana-Farber Cancer Institute, the Massachusetts Institute of Technology, and other institutions have discovered a sign of the early development of pancreatic cancer. The hope is this discovery will help early detection of pancreatic cancer and identify new treatment strategies.
Review the Dana-Ferber Cancer Institute News Release for full details.
Note: Cathy Miller is not a physician. Nothing on this site is intended to offer medical advice, treatment or services for you or any other individual. The resources provide general information for educational purposes only. This site and links to other sites do not substitute for professional care. You should seek the advice of your physician or other healthcare provider.