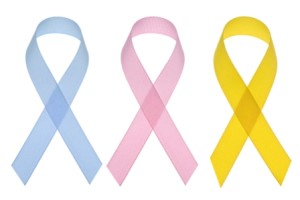 The following are a few cancer news stories for June.
There is a brief summary of each news item with a link to the source.
Let me know in Comments if you find these useful or would like to share other news stories. Thank you.
Double Mastectomy: Often Unnecessary?
A study published in the Journal of American Medical Association's JAMA Surgery revealed that nearly 70 percent of women who had a double mastectomy had no medically valid reason to have the surgery.
Medical reasons include a history of family breast cancer, ovarian cancer or a genetic test that indicates a higher risk for the disease.
It appears fear of recurrence was a motivating factor behind the women's decision to have the double mastectomy.
Read the Press Release from Memorial Sloan Kettering  for more details.
Screening Prevents Half Million Colorectal Cancers
A report covering more than 30 years estimates colorectal cancer screenings prevented a half million cancers. Screening tests included fecal occult blood testing, sigmoidoscopies, and colonoscopies.
Colorectal cancer rates declined significantly at the same time screenings increased.
Read the Yale News story for more information.
New Test Predicts Likelihood of Breast Cancer Spreading
A study led by the National Cancer Institute (NCI) reviewed a test that counts the number of locations in tumor specimens where tumor cells may invade blood vessels, as well as predicting the risk of metastasis (the spread of a cancer from one organ to another) for the most common type of breast cancer. 
Read more about the study at the Albert Einstein Cancer Center of Albert Einstein College of Medicine of Yeshiva University News Releases.
New Tool Predicts Financial Toxicity for Cancer Patients
As if cancer was not enough of a problem, now the financial stress of treating the disease has its own side effect. Researchers call it financial toxicity.
In the July issue of Cancer, cancer specialists from the University of Chicago developed a tool for measuring a cancer patient's coping ability with financial stress. The purpose of the tool is to identify patients who need help, such as education, financial counseling, or referral to a support network. 
Review the University of Chicago Medical Center's press release for more information about the new assessment tool.
Note: Cathy Miller is not a physician. Nothing on this site is intended to offer medical advice, treatment or services for you or any other individual. The resources provide general information for educational purposes only. This site and links to other sites do not substitute for professional care. You should seek the advice of your physician or other healthcare provider.