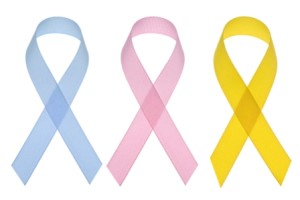 I plan on updating this category about once a month.
I'll provide a brief summary of the news story with links to the press release or article.
Please let me know in Comments if you find the information helpful and what kind of news you would like included in future updates.
Thank you.
January 2014
Ovarian Cancer Biomarker Discovery
Researchers at Case Western Reserve identified a biomarker that may help predict treatment response in ovarian cancer.
Researchers explained that the biomarker may give clues as to which women would respond well to chemotherapy and which would have a high risk for recurrence. That information could be very helpful in treatment decisions.
Read the press release for more information.
Stopping Breast Cancer Metastasis
The spread of cancer from one body site to other parts of the body is known as metastasis.
Researchers at Huntsman Cancer Institute in Utah uncovered a cellular mechanism that drives the spread of breast cancer to other parts of the body. The good news is they also discovered a therapy which blocks the mechanism.
Read the press release for more information.
U.S. Cancer Deaths Down Twenty Percent
The American Cancer Society reported some good news. Between 1991 and 2010, the cancer death rate for men and women combined fell 20 percent. The rate of colon cancer has declined rapidly in recently years, attributed in part to increased colonoscopy screenings.
The complete study, Cancer Studies 2014, is available in n the American Cancer Society's journal CA: A Cancer Journal for Clinicians.
The American Cancer Society also updated its site with general information about the cancer study and statistics.
Note: Cathy Miller is not a physician. Nothing on this site is intended to offer medical advice, treatment or services for you or any other individual. The resources provide general information for educational purposes only. This site and links to other sites do not substitute for professional care. You should seek the advice of your physician or other healthcare provider.