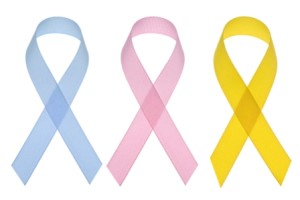 The following are a few cancer news stories for April.
There is a brief summary of each news item with a link to the source.
Let me know in Comments if you find these useful or would like to share other news stories.
Thank you.
Cancer News: April 2014
Harvard's Take on Mammograms
Researchers at Harvard Medical School's Department of Health Care Policy and Brigham and Women's Hospital published guidelines in the Journal of the American Medical Association (JAMA) for individualizing the approach to mammogram screening. 
Researchers shared guidelines for the risks and rewards of mammography based on the patient's age and other factors.
Read the Harvard Press Release for more details.
Key Driver in Colorectal Cancer Identified
According to the Centers for Disease Control (CDC), colorectal cancer is the second-leading cause of cancer-related deaths in the U.S. and the third most common cancer.
Researchers at the Ohio State University Comprehensive Cancer Center, identified a molecule that is thought to be a key driver of colorectal cancer.
Read the Press Release for more information.
Aggressive Form of Breast Cancer Linked to Inflammatory Protein
A study in mice by the National Cancer Institute (NCI) discovered a link between an inflammatory protein, nitric oxide synthase 2 (NOS2), and the progression and metastasis of an aggressive (although less common) form of breast cancer.
Read more about the study at the NCI site.
Gene Panel Effective Screen for Dozens of Cancer-Associated Mutations
A study by Stanford School of Medicine revealed a "quick, easy and cheap" screening method for finding gene variants known to be associated with specific types of cancer.
Learn more about the study at the Stanford School of Medicine site.
Adult Cancer Drugs Show Promise Against Childhood Brain Tumor
A study conducted by St. Jude Children's Research Hospital identified two adult cancer drugs that show promise for an aggressive form of a childhood brain tumor. The study was published in the journal, Cancer Cell.
Read the St. Jude Press Release for more details.
Note: Cathy Miller is not a physician. Nothing on this site is intended to offer medical advice, treatment or services for you or any other individual. The resources provide general information for educational purposes only. This site and links to other sites do not substitute for professional care. You should seek the advice of your physician or other healthcare provider.