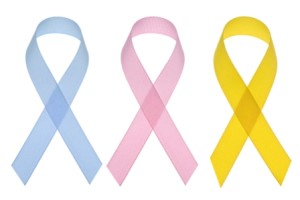 The following are a few cancer news stories for February.
There is a brief summary of each news item with a link to the source.
Let me know in Comments if you find these useful or would like to share other news stories.
Thank you.
February 2014
Male Breast Cancer
The National Institute of Health (NIH) conducted one of the largest studies on male breast cancer. The study confirmed risk factors for male breast cancer include obesity, a rare genetic condition (Klinefelter syndrome), and excessive breast tissue (known as gynecomastia).  Due to the rarity of breast cancer in men, studies have been few and far between.
Detecting Spread of Melanoma Skin Cancer
UCLA's Jonsson Comprehensive Cancer Center initiated long-term research on techniques for detecting the earliest spread of melanoma, the deadliest form of skin cancer. The study confirmed traditional as well as new techniques for detecting the spread of melanoma to the lymph nodes. The new methods can significantly prolong patients' disease-free survival.
Read the Press Release for additional information.
Mammography for Younger Women
A month prior to the British Medical Journal's much reported results of a 25-year study on mammography, another study shares conflicting results. Researchers from University Hospitals (UH) Case Medical Center and Case Western Reserve University School of Medicine published new findings regarding mammography. The findings show mammography remains beneficial for younger women in their 40s.
Read the UH News story for more details.
Fragmented Sleep Accelerates Cancer Growth
Frequent awakenings during sleep can speed cancer growth, cause increased tumor aggression, and affect the immune system's ability to battle early cancers. That's according to a study funded by NIH and published online in the journal Cancer Research.
A Press Release from the University of Chicago Medicine provides more information.
Note: Cathy Miller is not a physician. Nothing on this site is intended to offer medical advice, treatment or services for you or any other individual. The resources provide general information for educational purposes only. This site and links to other sites do not substitute for professional care. You should seek the advice of your physician or other healthcare provider.