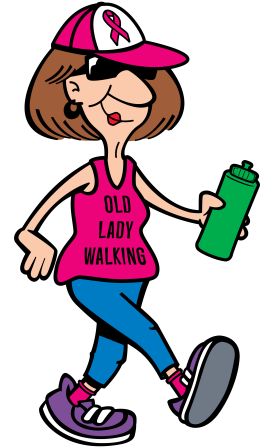 My 3-Day contributors never cease to astound me.
You would think after 14 years, their generosity would be expected. But, I will never take their support for granted.
With their help, I have raised the minimum required to walk my 14th 3-Day Walk – in record time.
After only one fundraising email! Thank you, thank you, thank you.
3-Day Contributors Inspire
When I started this 3-Day, 60-Mile journey in 2003, I dreaded the fundraising more than the 60 miles of walking. Seriously.
In fact, I decided to crew in 2004 so I wouldn't have a minimum fundraising requirement. I hate asking people for money.
My 3-Day contributors helped me quickly get over the fear of fundraising. Over the years, I have heard so many stories of individuals and their loved ones battling cancer.
I started this journey because of my sister's diagnosis. Up to that point, I didn't know anyone who had breast cancer. I wish I could still say that.
Perhaps I was fortunate. Or maybe I was in an isolated bubble of unawareness. My 3-Day contributors helped change that.
They shared stories of their own struggles or those of their loved ones. The list of names I wear on each Walk to honor those affected by cancer and those we lost continues to grow.
The great news is the survivor list is much longer.
Hearing their stories inspired this Old Lady Walking to keep walking. I could never do this without my 3-Day contributors and all of my supporters.
Sharing Their Stories
I could write volumes on the stories I have heard over the years. The following are just a few.
Teammate Connection
I often refer to my teammates as the lovely ladies who walked into my heart. We have three teammates who are breast cancer survivors. Three of us have experienced other forms of cancer.
Is it any wonder why I cannot walk away?
Penny's story is perhaps the best example that this journey is something much MORE THAN PINK.
I've told the story before. Penny invited me on my first Walk to join her and two other teammates as I was walking alone. I overheard Penny talking about her sister-in-law. It turns out, I had worked with Penny's sister-in-law for 11 years.
Despite assurances to see me at the 2004 Walk, Penny, Suzanne, and Diane were not there
I had misplaced Penny's contact information
After the Walk, a client emailed me to tell me the business card I gave her had something on the back
It was Penny's contact information
I contacted Penny and discovered the reason they were not there in 2004
Penny had been diagnosed with breast cancer
Destiny has us sharing this journey.
Contributor Stories
In my corporate days, I worked as an Account Executive and a Communications Manager for a brokerage firm. In that role, I met many representatives from the insurance industry.
Outside my office door, I had a picture of a barometer that showed my fundraising efforts. Tom, an Account Executive for a major insurance carrier, asked me about the barometer.
When I told him about my 3-Day Walk participation, he became visibly shaken.
Tom was a two-time cancer survivor
I asked if I could give him a hug
After our hug, he told me he wanted to contribute
He got his company to match his contribution
You never know who has been touched by this insidious disease.
On one of my daily walks, I passed by a man who was raking his lawn. He asked me if I was on some kind of team.
At first, I did not know what he meant. Then I realized I was wearing one of the bajillion 3-Day t-shirts I've gained in 14 years of walking.
I explained about my participation in the 3-Day Walks. Again, I witnessed a man shaken by my story.
His wife had breast cancer – three times
She had lost her battle to cancer after nearly 15 years
He was selling the home they had shared for years
I asked if I could wear her name on my Walks to honor her. He thanked me and asked if he could contribute.
A stranger except for this sad connection.
Thank You
I have had contributors who have donated one year and many who do so every year.
I never take for granted their generosity. There are too many stories like these.
Thank you to this year's contributors and to all of my supporters. You help keep this Old Lady Walking.
Aaron Davis
Barb Whitaker-Lewis
Bruce Cutting
Carol Wells
Cindy Simmons
Dianne Wingfield
Fortech Products, Inc.
Harriet    Rotter    Bell
Julie Ewert
Kim Lemon
LaVerne Richards
Linda Benefiel
Lori Widmer
Melissa Medve
Nicky Parry
Randa Forrester
Sharon Hurley Hall
Vince Williams
========
Walk on.