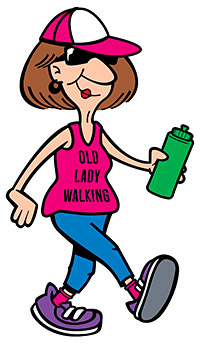 With my 12th 3-Day Walk for the Cure happening this year, can you blame me for a bit of nostalgia?
For the last few years, I have shared periodic newsletters with my teammates. Our first team (before we even realized we were a team) had four members.
This year we may have as many as 10. We have teammates who walked one 3-Day Walk and others who walked all but one year.
This month's newsletter shared a historical look-back. I realized some of our team members have never met. I thought I would share a similar history lesson with all of you.
2003 – The year it all started
Susan G. Komen took over the 3-Day Walk from Avon in 2003. There were only three Walks that year – one in San Diego.
Avon veterans, Penny – and sisters, Diane and Sue – came down from northern California to San Diego. On the 2nd day, Penny saw me walking alone and in her usual generous style, Penny asked me to join them.
The rest is history.
I don't think we took any photos that year. Smartphones were not the toy of the day back then.
2004 – The newbie crewed alone
In the year after my virgin walk, I decided to crew. While Penny, Diane and Sue planned to walk, they were M.I.A.
It wasn't until after the Walk (and after I recovered Penny's lost contact info.) that I discovered the reason. Penny was busy kicking breast cancer to the curb.
2005 – ♫ Reunited and it feels so good ♫
Sue, Penny and I were back. Sadly, Diane's ongoing back problems prevented her from joining us. But her niece, Michelle, strapped on her walking shoes for our San Diego stroll!
2006 – Pregnancy excuse
Sue, Penny and I were back. Michelle used a silly little excuse of a pregnancy not to walk. We were thrilled to add Julie to our growing team.
2007 – Same Team Plus One
Susan G. Komen rolled out a new pink and black logo in 2007. Our team of Penny, Sue, Julie and moi walked again. And another Diane relation, her daughter (and soon-to-be-doctor!), Kristin, joined our team.
2008 – San Francisco Run..er..Walk
We tried a change of scenery from San Diego to San Francisco. The 3-Day reopened the Walk there.
A training injury demoted me to head cheerleader. I did walk on my own later in the same year at the San Diego Walk. San Francisco teammates included Penny, Sue, Diane, and a plethora of newbies – Jana, Jenn, and Martina.
2009 – Arizona
At one time we talked about trying a different city each year. I think Arizona put an end to that thought.
I was unable to walk as Mom was having foot surgery. Our teammates found Arizona too flat. Did I mention most of my teammates are serious hikers? Just how did I get on this team? Arizona teammates included Jana, Sue, Penny, Michelle and Martina.
2010 – The year of the monsoon
Back to sunny San Diego, right? OMG– the 2nd day was a monsoon. We even saw Shamu float by. But at the end of the day, a rainbow appeared. We welcomed newbie (to our team) Abby and Beth – our own personal trainer.
Other teammates included Penny, Sue, Martina, and me.
2011 – Two Walks??
Penny and Sue got this crazy notion to walk both San Francisco and San Diego. I took on head cheerleader role again and Julie joined me as a cheerleader.
Besides Penny and Sue, the sane ladies who walked San Francisco only included Kristin, Diane – and newbies – cousins Lauren (Penny's daughter) and Jamie.
Our team of Sue, Penny (doing their 2nd Walk of the year), Jenn, Beth, Martina, and I enjoyed sunny San Diego skies once again.
2012 – Penny's True Colors
Due to a hiking injury (resulting in a broken wrist), Penny took on a different role on our annual Walk. Our team of Beth, Lauren, Martina, Sue and I laughed uproariously when we turned the corner and saw this little floozy.
2013 – 10-year anniversary
Our gracious hostess, Martina, shared her beautiful Lake Tahoe home for a 10-year anniversary reunion. Our 600 Mile Club t-shirts were also Martina's brainchild and were worn by our 2013 team of Beth, Lauren, Martina, Penny, Sue and me.
2014 – Foot bath heaven
After all these years of walking, we finally discovered the joy of foot baths with epsom salt. How did we not know about this little slice of heaven? We welcomed newbie Holly all the way from Connecticut.
Beth, Jenn, Lauren, Martina, Penny and I joined Holly in a team feet soak. Bliss.
2015 – More Newbies?
We have reports of a few newbies considering this year's Walk. The more the merrier! Stay tuned for more news about this year's Walk.
Walk on.